At Idahoan®, we don't just believe in the principle of 'waste not, want not' – we live it. It's a part of our everyday routine and it's why we take our reuse initiatives so seriously. We strive to provide high-quality nourishment for our customers while supporting a thriving and sustainable livelihood for Idahoan farmers, employees, and communities; and with our direct connection to the health and well-being of the beautiful land that surrounds us, sustainable practices are an essential part of who we are and what we do.
This article on reuse marks the second in our three-part series around sustainability, discussing the areas in which we at Idahoan focus our efforts to preserve vital resources for generations to come.
We are proud to spearhead local reuse efforts that not only are healthy for the environment, but also benefit our farmers, producers, and customers.
We focus our reuse efforts in three key areas:
1. Innovative Water Reuse Program
The story of the water we use at Idahoan is an important one to tell.
It begins as fresh spring water travels down from the peaks of the beautiful, pristine Grand Teton Mountains into the fertile Teton Valley, where it's used to grow and clean our Certified 100% Idaho® Potatoes. From there, the water embarks on an important journey as it's filtered and repurposed for agricultural use throughout the state.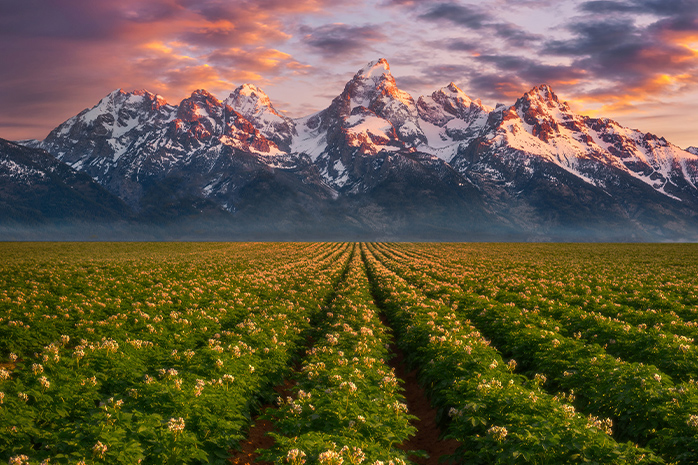 We've pioneered an innovative water reuse program that allows Idahoan to sustain local aquifers with hundreds of millions of gallons each year. In 2020 alone, over 404 million gallons of water were used, looped, and reused for crop cultivation – the equivalent of approximately 612 Olympic-sized swimming pools.
After it is used to wash Idahoan potatoes, we screen and filter the water ourselves before sending it off to our local Idaho farms for the purpose of irrigating crops. By reusing the nutrient-rich water from our production facilities, we conserve more surface water for local Idaho farmers to utilize for crop cultivation and raising livestock.
Through reusing and conserving important resources with methods such as this, Idahoan helps to save millions of gallons of water each year.
2. Repurposing Food Waste
Food is at the center of what we do at Idahoan – and we do our very best to ensure minimal food waste in our processes.
Each year, Idahoan is able to supplement the nutrition of over 35,000 cows with leftover potato products. Rather than finding their way down the drain or into the trash, these scraps – an assortment of peels, fragments, and starches – in combination with crops grown using our repurposed water, serve as feed provisions for local agriculture partners.
3. Reuse of Corrugated Cardboard
As in many businesses within the Foodservice industry, heavy-duty cardboard boxes and gaylord totes are used throughout Idahoan's operation to store and transport both finished and intermediate products.
We reuse these boxes and totes as much as possible inhouse. When they can no longer bear the weight of our products, they are re-homed to local businesses who can use them. In fact, in 2020 alone, 62% of our corrugated totes were re-homed for further use – the equivalent of 2,723 trees, or 17 trees per ton of corrugated cardboard.
Additionally, our gaylord totes are made from 43% recycled fibers from the start, and our Retail cartons are always made from 100% recycled materials. This decreases the amount of raw materials required, therein reducing greenhouse gas emissions and promoting product circularity within our organization and beyond.
All cardboard sourced by Idahoan for Retail and Foodservice usage supports a variety of sustainable cardboard initiatives and certifications including:

The name "Idahoan" may be synonymous with delicious potatoes, but it also speaks to a legacy of sustainability that spans over six decades. We're proud to do our part to ensure that this storyline continues for generations to come, delivering a mouthwatering, environmentally-friendly product, creative culinary inspiration, and meaningful community relationships.
That's tangible reuse, committed sustainability, and tremendously tasty potatoes – from field to fork.