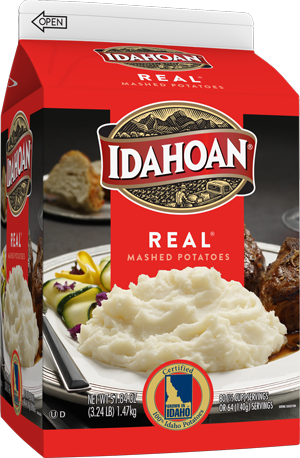 Hearty flavor. Velvety texture. Made from real 100% Idaho® potatoes. Idahoan® REAL Mashed Potatoes come in a variety of flavors, right from the people that grew them. If you're a foodservice pro, go right to the source. These no-mess, no-fuss solutions give you the yields, profits, and satisfied customers you're looking for!
Idahoan REAL Mashed Potatoes are processed from sound, well peeled and trimmed 100% Idaho® Potatoes.
Certifications
Kosher Dairy and Halal
GTIN# 1 00 29700 20405 8
DOT# 548487
PACK SIZE: 3.24 lb (1.47 kg) Carton
CASE SIZE: 6
COUNTRY: USA
Buy Now
Request Pricing / Info
Nutrition & CN Sheet


Product Details

Prep Instructions
Measure boiling water into a steam table pan according to the chart below.
Add potatoes all at once, according to the chart below, using a spoon or wire whip to distribute evenly and wet all potatoes.
Let stand for 60 seconds, stir well and serve.
For creamier mashed potatoes, add more boiling water.
Idahoan Mashed Potatoes refresh at a 2 to 1 ration (i.e. 2 parts water, 1 part potatoes).

Ingredients
Idaho® potatoes, salt, sunflower oil, nonfat dry milk, monoglycerides, calcium stearoyl lactylate, spice, artificial color, natural and artificial flavors. Freshness preserved by sodium acid pyrophosphate, sodium bisulfite, citric acid and mixed tocopherols.
Contains: Milk.
Gluten Free
Prep Chart
Potatoes
Boiling Water
# of Servings
Steam Table Pan Size
1 qt
1/2 Gallon (1.89L)
20 (1/2 cup)
4" Half Pan
1/2 carton
1 Gallon (3.79L)
40
6" Half Pan
Full Carton
2 gallons (7.57L)
80 (1/2 cup)
6" Full Pan
1/2 cup
1 cup
2 (2/3 cup)
-
1 cup
2 cups
4 (2/3 cup)
-
2 cups
4 cups
8 (2/3 cup)
-
4 cups
8 cups
16 (2/3 cup)